Seminary of The Immaculate Conception,
Huntington, New York.
L
iving on our long, fish-shaped island, one can not fail to notice the many spectacular church buildings gracing the landscape. In the Diocese of Rockville Centre, there are impressive schools, retreat centers and religious houses. Grandest of all is the Immaculate Conception Seminary located in the northern part of the island on a magnificent 230-acre waterfront property. Most of these buildings, fortunately, were built in the pre-Conciliar era and share a remarkably elegant, classic architectural style. In fact, the more one looks and admires these beautiful Catholic structures, visible in every town of Long Island, one begins to realize that there was a master-planner behind this very visible Catholic institutional presence. In other words, it didn't happen by accident. Who was this intelligent designer? What did he believe and hope to accomplish?
Thomas Edmund Molloy was born in Nashua, New Hampshire, on Sept. 4, 1884, his parents having moved there five years earlier from Brooklyn Heights. Beginning his college studies at the local St. Anselm's, Providence brought him to St. Francis College, Brooklyn, in 1904 to conclude his undergraduate studies. After entering St. John's Seminary in Brooklyn, Msgr. George Mundelein, Brooklyn's Chancellor and future archbishop of Chicago, sent him to study at the North American College in Rome, where he was ordained on Sept. 9, 1908, in the Basilica of St. John Lateran.
After ordination, he returned to Brooklyn, where he became secretary to then-Auxiliary Bishop Mundelein. With the latter being sent to Chicago to be archbishop, Fr. Molloy accompanied him for a year there as secretary, eventually returning back to Brooklyn to serve as Spiritual Director for Cathedral College and Professor of Philosophy at St. Joseph's College for Women. Named Auxiliary Bishop of Brooklyn in 1920, he was to become the Ordinary of the Diocese a year and a half later, at the unusually young age of 37, upon the death of Bishop McDonnell. Quickly laying his mark on the Diocese, Bishop Molloy conducted a synod in 1926.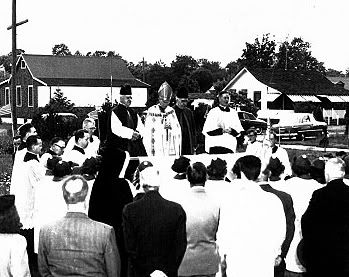 Bishop Molloy, Matic Beach, 1949.
He began the building of Immaculate Conception Seminary in Huntington, overseeing every detail until its dedication in 1930. Remarkably, he went on to establish 90 parishes, and 100 elementary schools in the four counties of Long Island, presiding over the diocese's centennial celebration in 1953. Archbishop Molloy died November 26, 1956, at the age of 72, and is buried along with four of his successors in the crypt of the Seminary in Huntington. Among the ninety churches that he built are some outstandingly beautiful structures whose exteriors alone lift up the soul and brighten the landscape, testifying eloquently to the grandeur, mystery and permanence of the Catholic vision. Among these treasures are St. Agnes' Cathedral whose spire elevates thousands of souls who pass by on the LIRR every day, commuting to and from work.
St. Agnes Cathedral.

Another is St. Patrick's in Bayshore, which dominates the whole South Shore with its gorgeous Romanesque facade. Cure of Ars in Merrick is another splendid spread of buildings, consisting of not only a church, but also a school, a convent and rectory—all of them large, impressive and solidly crafted. This imposing cluster of buildings in Merrick testifies to the reality behind the comprehensive vision of Archbishop Molloy which was precisely this: the parish, far from being a 'one-hour weekend spiritual pit stop' between sporting events and shopping trips, was meant to be the heart of the daily life of a large Catholic community. As if this parish were not enough, he constructed Sacred Heart Parish a short distance away. Obviously, Archbishop Molloy, like a caring father, meant to provide for his children's needs in every community for many years to come.

He built large, state-of-the-art schools that every Catholic child in the community could attend, as well as large, spacious convents that would serve to house the sisters who would serve as teachers and spiritual mothers to all in the parish community. There is much to learn from this amazing man and his vision, which was meant to produce generations of Catholics who would bring a deep and abiding faith into the world around them and bear effective witness to the Gospel. It was no doubt his hope that this island would be solidly Catholic, from head to tail, so to speak.

Instead, as one looks around today, Long Island is what can only be called a 'devastated Catholic vineyard.' Many of the schools and convents are empty, others fighting for their survival. We are afflicted with dwindling Mass attendance, scant vocations, broken homes, contracepting Catholic families, pervasive pornography, cynicism and a general widespread lack of belief. How we got from there to here in a span of less than forty years will be the subject of future articles. In conclusion, let us remember this extraordinarily gifted and faithful prelate, Archbishop Thomas E. Molloy, on the fiftieth anniversary of his passing:

Father in Heaven, we thank you for the gift of this great servant, Thomas Molloy, and we pray that we may strive to recapture some
of his extraordinary zeal for souls. Direct us, we beg You, to play our part in the re-evangelization of this island and the restoration of Archbishop Molloy's enduring Catholic vision.