On August 3rd, 1924, Stefan Wyszynski (pronounced Shteh-fahn Vih-shinski) was ordained to the holy priesthood by Auxiliary Bishop Wojciech Owczarek in the chapel of the Blessed Virgin in Wloclawek's Cathedral.
Bishop Wyszynski
Immediately after his ordination, he travelled to Czestochowa in order to be able to offer his first Solemn Mass before the miraculous icon of Our Lady of Jasna Gora, Queen of Poland. As he was in frail health, he was barely able to stay on his feet, beseeching Our Lady to let him live to be a Priest for at least one year.
Having lost his mother at the age of nine, he came to Czestochowa in search of his heavenly Mother. "I went to Jasna Gora to say my First Mass so that I could have a Mother, a Mother who is forever and does not die." (
Micewski, p.7)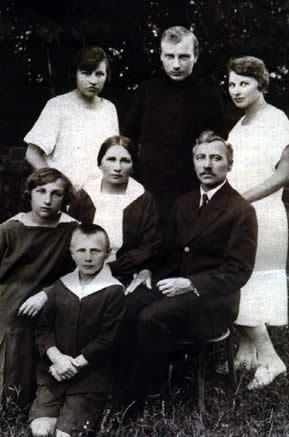 Stefan (in rear) with his family
Our Lady was to give Fr. Wyszynski many more than the one year he had asked for, as Providence intended this son, consecrated to the Mother of the Polish Nation, to be deeply bound with its destiny for more than half a century to come.
Going on to study at the Catholic University of Lublin, (commonly referred to by its Polish initials KUL), he received his doctorate in Canon Law in 1929, defending his thesis which was entitled,
The Rights of The Family, The Church, and The State in Relation To Schools.
Continuing the preparation for his future mission, he served as editor-in-chief of the diocesan newspaper until the outbreak of World War Two, all the while serving as Defender of the Bond in the Wloclawek curia. He accomplished all this while lecturing on social ethics in the seminary, heading the Christian Worker's University, as well as being active in the Christian trade unions.
This close contact with workers helped form his belief that the influence of Russia, "fighting against God," was already very strong, yet he also knew that the growth in communist sympathy amont the Poles was "...not so much Bolshevik propaganda as the lack of work, of bread, and of a roof over one's head."
(Micewski, p.16)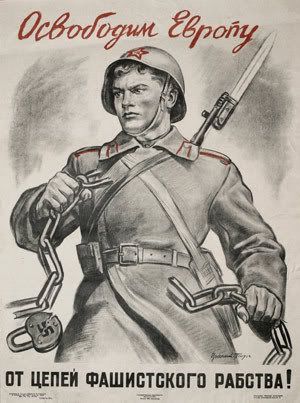 Soviet propaganda
He stated in 1934 that the
"...enormous salaries of high officials ...so absorb institutional budgets that there is nothing left over to pay junior officials and workers...Such a state of things does not accord with Catholic ideas of just distribution...". (Ibid.)
Highly trained in Catholic social ethics, as well as being a student of the social sciences, Fr. Wyszynski knew that
"...Violating the balance of incomes in society is bound to lead to a shaking of the whole social order; these are the causes of an inclination toward Bolshevism." (Ibid.)
Thus the future Primate of Poland already had embraced the conviction that a third road exists between liberal capitalism and revolutionary Marxism. As Micewski puts it
, "His early conviction later blossomed into the idea that Poland, lying between East and West, has a definite, well-understood mission: based on the social strength of a Catholicism that had stood firm through the long battle with atheism - a political system that opposed not only the inherent mistakes of collectivism but also the structural weaknesses and egotistical tendencies of capitalism" (Ibid., pp. 18-19)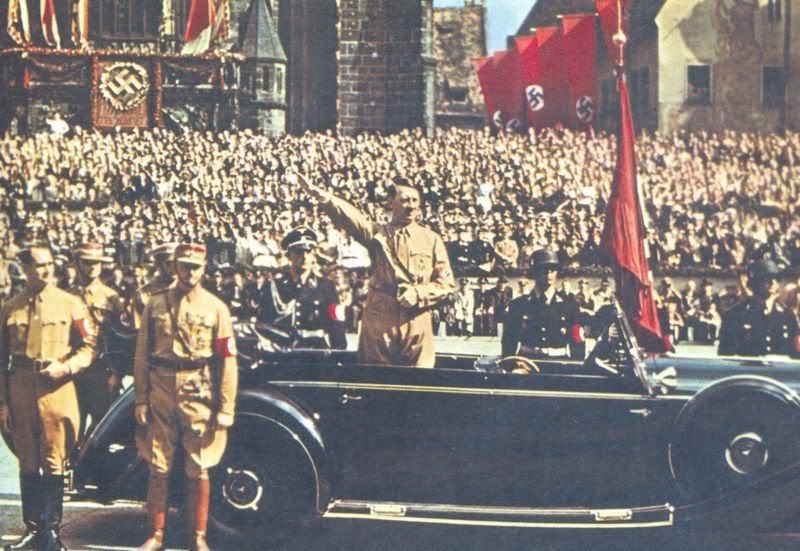 Nazi rally
With the outbreak of war in September of 1939, Fr. Wyszynski was ordered by Bishop Michal Kozal of Wloklawek to flee for his safety, as the Nazis had targeted him due to his pre-war publications on Nazism.
The warning of his superiors was a prescient one, for as Fr. Wyszynski attempted to return to his apartment to locate a forgotten book, he was told at the Wloklawek train station that the Gestapo had already been to his apartment.
With that news he was destined to spend the rest of the war moving from place to place hiding from the Gestapo, knowing that if he was caught it would mean certain death.
While in hiding, Fr. Wysynski served as chaplain to a group of sisters and blind people, as well as giving lectures wherever possible on Catholic social thought, and on the Church as the Mystical Body of Christ. He even served as a midwife on one occasion, delivering the child of a poor, emaciated expectant mother he came across while hiding in the forest.
In an amusing aside, Fr. Wyszynski had to operate under a pseudonym to avoid capture, and as his biographer tells us,
"Wyszynski chose for himself the underground pseudonym, Sister Cecilia, and before long people were asking, 'Is Sister Cecilia saying Mass today? When is she hearing confessions?' " (Micewski, p.26)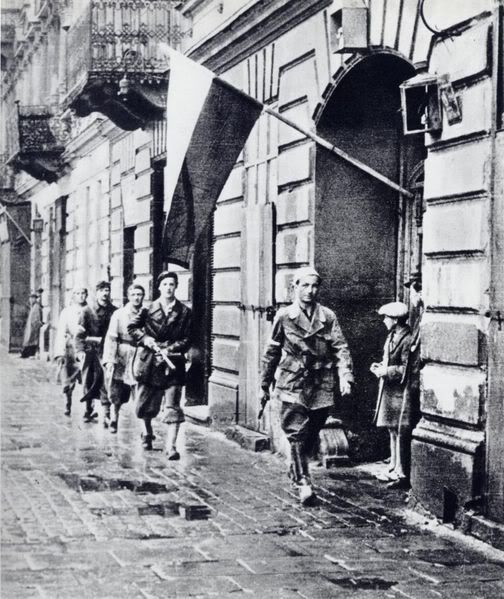 Warsaw Uprising, 1944

When the Warsaw uprising started, in which 240,000 people died, Fr. Wyszynski found himself in Laski, just outside the city. Ministering to allied and enemy soldiers alike, in his free moments (and with no one watching) he would lie prostrate on the chapel floor in the form of a cross, praying both for the dying and those destined to survive.
As the uprising came to an end, he found a shred of paper on which the burning fire had left only three,
"Thou shalt love." (Ibid.)
The war came to an end, with Fr. Wyszynski having been preserved by the woman he so loved, referring to her often as
"Beautiful Splendid Star, Mary of Czestochowa."