Caught up as we often are with our own trials it is easy to forget the heroic sacrificies those brothers and sisters who have gone before us in the Faith have made. One such story, as told by our friend, Veritas of Humanae Vitae, relates the experiences of his mother's brave family in the former communist Yugoslavia in the 1960s.


Being fishermen on a small island, they knew well how to orient themselves while navigating rough seas, sometimes in the night with nothing but the stars to guide them. Being Christians, they also knew how to keep their eyes fixed on the star of their faith in dark times. We hope you will be edified and uplifted by this beautiful Christmas story.

"On Christmas Eve 1962, in the former communist Yugoslavia, my uncle, aunt and mother told their father that the local island school they attended had declared that any child not attending school classes the next day would be failed for the year.


Although this was a devoutly Catholic island, the only Mass being offered Christmas Day would be at noon, thus conflicting with the scheduled classes. Knowing his religious obligations, grandfather told my uncle that he and his sisters would be going to Mass the next day.


After attending Christmas Mass, my uncle returned to school the following day and was told that he was going to be failed for the year. Upon hearing this my grandfather said, "That's it!" The decision had been made.


The next day he applied for a tourist visa for his family to go to Italy. In those days, the Communists didn't kill you if you tried to leave, but they would bring you back and subject you to interrogation.


Knowing that if the authorities discovered their plan they would be apprehended, that evening they said a tearful goodbye to my great-grandparents, knowing they would never see them again. Leaving with everything they owned, they were not able to tell my greatgrandparents until one hour before their departure.


Rowing my grandfather's fishing boat away from the island in the dark until they were out of earshot, they were picked up by a speedboat and taken to Trieste, Italy. After three days, with their money exhausted, they went to the Italian authorities to declare political asylum.


The Italian government put them into a refugee camp, with my grandpa leaving each day to work in nearby vineyards while my grandma cleaned people's houses. Eighteen months later, a relative living in the U.S. was able to obtain visas for my grandparents to come to America.


Once in America, my grandfather was finally able to breathe a sigh of relief that the Communist prophecy that, "you and your children will become like us," had been foiled.


There are many more true stories like this I have heard about my ancestors from Croatia. For instance, while escaping from the Nazis, one of their henchmen lifted the lid of the olive oil press my grandfather was hiding in, but was called away just before he had a chance to look inside.


My other grandfather (a harbormaster in a very important industrial shipping port) "looked the other way" at his post at the edge of the harbor as a sentry to let some people escape, only to have them return decades later to thank him amid tears.


One relative dressed up as an Italian mailman, when Italy capitulated, to avoid Nazi capture, rowing ninety miles back to Croatia at night, carrying only a loaf of bread and a bottle of wine.


There are so many more stories, but these are treasures of faith I intend to tell my children someday. It is important for them to know about the people who made such sacrifices and took such risks to be allowed to practice their faith.


These were people of modest education, but knew what was really important. They truly loved God.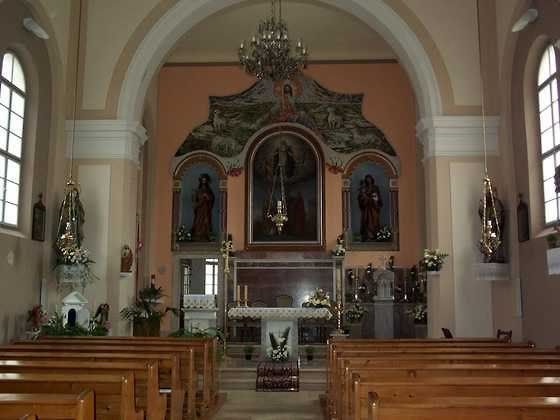 Sts. Peter and Paul Church, Ilovic, Croatia.

Interestingly, my uncle went on to become a parish priest. I asked Grandfather once how he felt on the day of my uncle's ordination. He said it was the proudest day of his life and his greatest treasure. A treasure it was, as a few years ago my grandfather died in my uncle's arms as he was giving my grandfather final absoloution.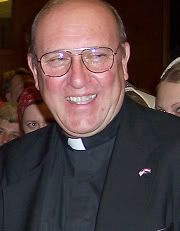 My uncle, Fr. Gio.
My uncle once told me that my grandfather would point the North Star out to him at night and tell him, "Keep your eyes fixed on The North Star and you will never get lost." Funny, for an uneducated man he could still bring forth a poignant analogy to our faith. Remember, "Be not afraid!" As bad as things may seem, we have more than we truly know, and we are free to worship God.

Ave Maria and Merry Christmas to all."