As a young boy growing up in the Society of Saint Pius X, I loved many things about it. The historical Mass of the Roman Rite, priests clad in biretta and cassock certain of the doctrine they preached, large families, and a strong sense of community are among the many elements of my upbringing that I look back upon with heartfelt joy and thanksgiving.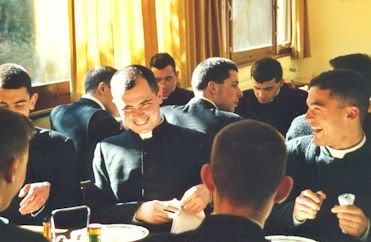 Our separated SSPX brethren at Econe, Switzerland.
I remember being carefully instructed by my Dad as to why we took such great lengths to attend a church so different from my local Catholic parish. Many of them made great sense to me, for the beauty of Gregorian chant, sacred polyphony, kneeling for Communion during the Holy Sacrifice offered
ad orientam
all resonated in my soul, and do to this day. There was no greater sense of mystery and transcendence than, as an altar boy, kneeling at the high altar as I heard the Priest whisper intently the words of consecration: "HOC EST ENIM CORPUS MEUM."
There was, however, one discordant note among all that beauty and order that never made sense to me. If there was anything my father and other 'traditionalists' like him were clearly against, it was Vatican II's insistence on ecumenism. If one thing was consistently demonized, it was the possibility that a Bishop, or even the Holy Father himself, would 'compromise' the one true Church by praying with our separated brothers and sisters. The thing is, though, they weren't called 'separated brothers and sisters.' Rather, they were referred to by the much more definitive term 'heretics and schismatics,' and this unfortunately made them more easily objects of derision.
I remember when the Dalai Lama came to St. Patrick's Cathedral to pray Vespers with Cardinal Cooke, I wanted to ask my Dad what was so wrong about Catholics praying with those separated from us. After all, didn't Christ desire that all his followers would be one? Didn't that mandate require all of us to actively 'seek that which was lost?'
Well, one day I got my answer, and even though it wasn't completely correct, there was an important element of truth in it. "Look", said Dad, "they have no intention of bringing these 'heretics' back to the Church. What they really intend to do is start a new, one-world religion, where it really doesn't matter what you believe". Needless to say, that was all a little much to swallow. Yet, twenty-five years later, I wonder if my tough, right-wing, John Bircher Dad was not all wrong after all.
After all, let's be honest. Even if the Holy Father carefully and correctly delineates the fact that as Catholics we must never fall into what he calls 'a false irenicism' , we must ask ourselves an important question. Does your 'average man in the pew' believe that? Does your Catholic neighbor next door believe that the Catholic Church is necessary for salvation, and that "he who knowingly fails to enter into it cannot be saved," to quote the Second Vatican Council? If not, why not?
But here's the rub: Now that God has brought me back into full communion with the true Church, I have noticed a strange phenomenon, which bespeaks a conflict between
praxis
and belief.
The very ones who admirably proclaim the necessity of active and earnest ecumenical relations with Protestants, Orthodox, Jews, Muslims and Sikhs, are the same ones who are strangely silent when it comes to dealing with our brothers and sisters of a traditionalist orientation,
This latter group, it seems, has been relegated to the ecumenical status of 'non-personhood." For instance, if a cleric issues a public account of his positive experiences dialoguing with our Jewish brothers for a week in the southern hemisphere, wouldn't it be equally beneficial for him to make similarly gracious public overtures to our separated Catholic friends in the SSPX and SSPV movements?
I have seen countless instances where our separated traditionalist friends have gladly offered their time and hospitality to 'dialogue' with those of us who are in the official Church. The reason is because, in spite of their sometimes harsh approach, they sincerely care enough about souls to attempt to bring them into the truth as they see it.
On the other hand, those in the official Church (we are speaking only of our experiences on the local level) seemingly have little or no interest in extending themselves to these brothers and sisters, let alone manifesting any outward concern for their needs and difficulties. The traditionalists are treated simply as some invisible 'fifth column' who, if ignored long enough, will hopefully just fade away.
Are the Holy Father's wishes in Ut
Unum
Sint
being followed?
Here's the paradox:
Those who seem to be the
most
ecumenical with every other separated body, display no outward concern for those separated traditionalists who are actually the closest to us in belief,
whereas
, those who are
least
ecumenical in their outlook, are the most outwardly zealous to bring back anyone separated from what they believe to be the true Church.
Just go figure.