In 1949, the Soviets decided to build what they deemed a "workers' paradise" in a town on the outskirts of Krakow. This new town was part of their campaign to break down the resistance of middle-class Krakowians to the Soviet program for Poland, a program that entailed the denial of one thousand years of Polish religious and cultural heritage.
The name of their new town was to be "Nowa Huta", and the Soviets intended it to be a model example of the communist ideal of "a city without God". This new town was to be filled with enormous blocks of workers' apartments, some containing as many as 450 flats.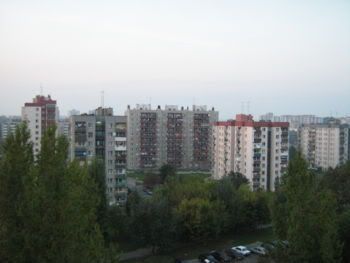 Nowa Huta 2006.
The breakdown of community was essential to this new "city without God", as there was to be no easy way for the Polish worker to vist with his neighbors. To quote the distinguished George Weigel, in his seminal work Witness To Hope, "If you wanted to visit a neighbor outside the two or three apartment module in which you lived, you went down the stair or elevator, left the building, reentered through another door, and then climbed the stairs or took the elevator up to your neighbor's module." (P.189)
In other words, you were to have little or no contact with your neighbor, because "Nowa Huta's apartment blocks were aptly described as human filing cabinets, and the cabinets were deliberately designed to keep the files separated."(Ibid.)
If the average Pole were to have minimal contact with his neighbor in this new Soviet "workers'paradise", his contact with God was to be even less, for Nowa Huta was to be a town without a Church, and in Catholic Poland, this meant that Christ would not be allowed a place to dwell among his people. There lterally would "be no place for Him in the Inn".
As the Communists refused the initial permits to build a Church in Nowa Huta, it was quickly destined to become a symbol of the implacable opposition between the Communist state and the Catholic Church.
Since this town fell in the jurisdiction of the Archdiocese of Krakow, the young newly appointed auxiliary Bishop of Krakow, Karol Wojtyla, opened the offensive by celebrating an open air Midnight Mass in Nowa Huta in 1959. To quote Witness To Hope again, "The great symbol for Nowa Hutas' soul was the building of what became known as the 'Ark Church', which arose from the field in the Bienczyce neighborhood where Wojtyla had celebrated Midnight Mass since 1959."(P.190)
This struggle for the soul of Nowa Huta (and with it, the Polish Nation) was not an easy one, and it was to go on for many years. It is a testimony to the indomitable faith of Poles, as it is the exercise of the episcopacy both bold and brave, for the future Archbishop of Krakow was to celebrate Midnight Mass in the open air cold for many years to come.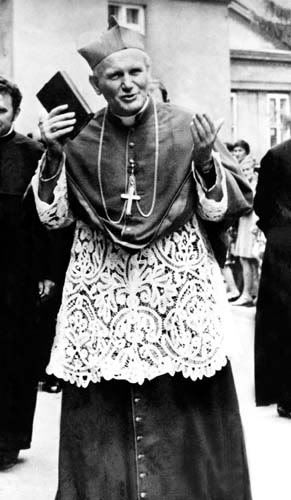 Cardinal Wojtyla 1970.
In his Christmas Day Mass in the Wawel celebrated on December 25, 1963, he spoke of the Mass he had clebrated only hours earlier in a very cold Nowa Huta, "The Midnight Mass which I just said was celebrated in a great freeze. Several thousand people participated...What a closeness between this Midnight Mass in Nowa Huta and what I had seen in Bethlehem: a humble grotto open to the elements..." (Kalendarium P.225)
This heroic example of episcopal faith and perserverance inspired a courageous laity to not lose hope, for this struggle was to continue on. Led by the outanding now Cardinal Archbishop Wojtyla of Krakow, the citizens of Krakow gathered yet again in the cold and frigid open air of Nowa Huta for Midnight Mass on December 25, 1972. This is, in part, the exhortation given them by the now battle tested and proven Archbishop, "And we stand here, at this place, where the new - born Christ does not have a roof over his head...over His head. All of us gathered here invite Him and plead that here...where God is being born, unto these people, unto these many thousands of people, new people, people of hard work, people of great accomplishment - - that God may be born here, in accordance with the traditions of our Polish culture: under a roof!!!" (Ibid.)
This moving example of patient and humble perserverance was to eventually pay off, for on May 15, 1977, the great Cardinal of Krakow was able to consecrate the new 'Ark Church', in which Mary, Queen of Poland was saving her people. What is especially noteworthy and instructive, is that the cornerstone for this great Church was stone taken from the tomb of St. Peter, donated by Pope Paul VI.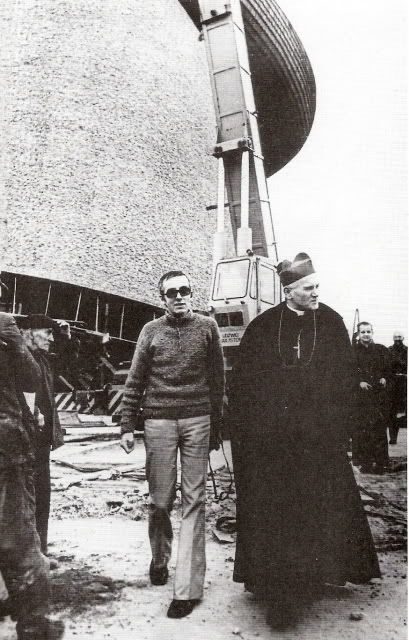 Surveying the Ark Church at Nowa Huta.
So, on this Christmas Day 2006, may we on Long Island find strength and hope in this beautiful story, one intended by Providence to inspire Catholics around the world with an example of the heroism a courageous Bishop can inspire in his laity, all the while attatched in faith and spirit to the Succesor of St. Peter.
May all of us on Long Island pray this Christmas, that the sacrifices necessary to preserve our Catholic faith in the face of more subtle yet similar attempts to weaken it, be never lacking. May the example of Cardinal Karol Wojtyla, give similar encouragement to our Bishops, always united in mind and heart with our Holy Father, Pope Benedict XVI
Nolite timere. Be not afraid! Merry Christmas!!!